The University of Texas Science Health Center at Houston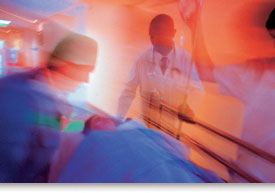 Thanks to a $1.5 million endowment established in 2000 by Roy M. and Phyllis Gough Huffington, The University of Texas Health Science Center at Houston (UTHSCH) is accelerating its search for solutions to the nation's number one cause of disabilities - stroke.
Stroke pioneer James C. Grotta, M.D., holder of the Roy M. and Phyllis Gough Huffington Distinguished Chair, describes the condition as a "brain attack" caused by a clogged or burst artery that disrupts the flow of blood to the brain. "Stroke attacks 730,000 people annually and causes almost as many deaths as heart disease or cancer, and yet it is one of the most treatable and even preventable conditions," he says.
Grotta directs the Stroke Center at The University of Texas Medical School at Houston. With help from the Huffington endowment, which is invested in the Long Term Fund, he and his team are discovering new diagnostic capabilities and treatment modalities to help them prevent disabilities and improve the rate and degree of recovery following a stroke.
Already, the Stroke Center is among the foremost in the world in successfully treating acute stroke patients with thrombolytics ("clot-busting" drugs). Grotta's stroke team was chosen as one of only eight centers by the National Institutes of Health to carry out the clinical trial that established the efficacy of the thrombolytic drug tPA (tissue plasminogen activator), the first and only proven treatment for stroke. They also discovered that timing is everything when it comes to mitigating damage after a stroke.

The Honorable and Mrs. Roy M. Huffington



"Patients with blood clots are 50 percent more likely to recover completely if given tPA within three hours of the stroke," says Grotta. "In fact, we are among the first major stroke centers to use telemedicine capabilities to extend our expertise and help in administering thrombolytic therapy for patients in hospitals in rural regions of Texas. Once we assess the appropriate post-stroke care, we also help determine rehabilitation strategies and plans for secondary stroke prevention," he adds.

Grotta's team has also helped develop a local stroke center network consisting of the Fire Department-Emergency Medical Services and

hospitals in the Houston area. The network helps to ensure that quick, expert stroke therapy is readily available in the community.
"If I ever have a stroke, I hope Dr. Grotta would be nearby," says Huffington, who has been a leader in the oil and gas industry and served as U.S. ambassador to Austria under former President George Bush. The gift to endow Grotta's Distinguished Chair reflects Huffington's longstanding concern about stroke. A number of his friends have been incapacitated by stroke, and tragically, his only sister died of a stroke shortly after he made the gift.
The $1.5 million Huffington endowment has been a vital source of funding for Grotta's research at the Stroke Center. He and his team have discovered that caffeinol, a combination of ethanol and caffeine similar to a "spiked" cup of coffee, significantly reduced stroke-related brain damage in lab animals - infusions of caffeinol reduced damage by 80 percent in rats when given within three hours after a stroke. And Grotta says the first human trials are showing encouraging results.
The Stroke Center also is exploring experimental approaches in animals to actually reverse brain damage and accelerate recovery after stroke. New rehabilitation paradigms and novel pharmacologic agents are under development. Grotta hopes these animal studies will be translated into practical and widely applicable treatments that might be useful for the majority of stroke patients.

"Continued advances in stroke research and treatment will depend heavily on broader efforts in both collaboration and education. For example, as we learn more about the genetic causes of diseases, we will be able to identify the genes that contribute to conditions which are high risk for stroke, like high blood pressure, diabetes and atherosclerosis," says


James C. Grotta, M.D.


Grotta. "With such knowledge, we can better predict stroke - the next step is preventing it altogether."
The Roy M. and Phyllis Gough Huffington Distinguished Chair also provides Dr. Grotta with the support to develop the nation's most successful training program for new stroke specialists. "As our ability to treat more patients grows, we must train new talented doctors to bring this care to the patients who may benefit," says Grotta.