The University of Texas at Dallas


Traumatic brain injury (TBI) is the number one cause of death and disability of children and adolescents. One million children sustain head injuries annually; approximately 165,000 require hospitalization. The likelihood that a child will sustain brain injury before reaching adulthood is high - one in thirty. Children who sustain TBI may experience a complex array of impairments. Physical, cognitive, and/or psychological-behavioral-emotional impairments may be temporary or permanent and can cause partial or total functional disability.
Bonnie and Patrick Shelby understand the impact of brain injury in children and its effects from their own experience. Their son, Stratton, suffered a traumatic brain injury when he was hit by a car in 1997 at the age of six. As the Shelby's learned, parents often have a difficult time communicating to teachers and support staff their child's needs following a brain injury. Thanks to his parents' diligence, teenager Stratton is making progress in school and his outlook is greatly improved.
Suzanne Bonifert
After experiencing first-hand the difficulties that Stratton faced returning to school each year, the Shelbys have a passion to help countless children and adults who have brain injuries or diseases that affect the brain. This passion to help others led the Shelbys to donate $200,000 to the Crystal Charity Ball Collaborative Program for Pediatric Brain Injuries Endowment for the purpose of establishing the Bonnie and Patrick Shelby Child Brain Hope Program at the Center for Brain Health at The University of Texas at Dallas (UTD). Under the direction of Suzanne Bonifert, cognitive-communication specialist, the program helps children with traumatic brain injuries to receive the best possible services each year in school, long after treatment at rehabilitation facilities has ended.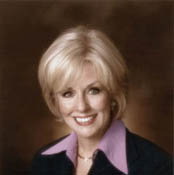 Dr. Sandra Bond Chapman
The Bonnie and Patrick Shelby Child Brain Hope Program allows therapists, educators and families to work together to provide an optimal environment for brain-injured children to grow and learn, according to Dr. Sandra Bond Chapman, director of the Center for Brain Health. The Center for Brain Health, which is part of UTD's School of Behavioral and Brain Sciences, integrates research, treatment, academic training and community outreach and is one of the few facilities in the United States to provide continued follow-up to enhance and monitor functional recovery in children and adults with brain injury, brain disease and complications of normal aging.
UTD's Center for Brain Health, in partnership with The University of Texas Southwestern Medical Center at Dallas, conducts the Crystal Charity Ball Collaborative Brain Injury Program which is focused on discovering procedures to minimize brain damage and inducing brain cell survival and regeneration. The program spans the entire spectrum of pediatric brain injury, combining state-of-the-art diagnostic methods with intensive treatments to improve long-term functionality in the cognitive, learning and social domains. Funding from philanthropists such as Bonnie and Patrick Shelby and the Crystal Charity Ball allows the Center for Brain Health to improve the lives of children with brain injuries and diseases. The endowment is invested in the Long Term Fund and has a value as of August 31, 2004 of $246,800.