Texas A&M University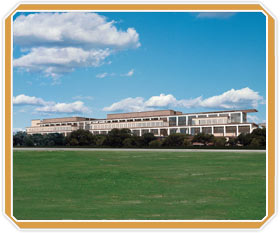 New Home for Research, Showcase for Environment-Friendly Design
The Interdisciplinary Life Sciences Building
By John Holder, Office of the Vice President for Research, Texas A&M University
From Alzheimer's disease to food productivity, quality, and safety, complex systems govern the most puzzling aspects of many important problems in the life sciences. Texas A&M University is moving forward on the construction of a facility that will be the ideal setting for addressing such challenges. The mission of the new Interdisciplinary Life Sciences Building (ILSB) will be to integrate multiple academic disciplines in the search for solutions to difficult problems under the general umbrella of complex biological systems.
The ILSB's construction has been funded by $95 million from Permanent University Fund debt. The building, slated for completion in August 2008, is part of a continuing effort to develop Texas A&M's life sciences infrastructure. The ILSB will be located near Simpson Drill Field and the Memorial Student Center on the Texas A&M campus and will include approximately 220,000 square feet of space for research laboratories, teaching, and related activities. As a briefing to the Council of Deans in 2004 noted, the ILSB's location "offers a physical and scientific link between east and west, and the beginnings of a life sciences corridor along the planned vehicular and pedestrian underpass linking east and west campuses."
Various colleges and research centers involved in the life sciences at Texas A&M will have a presence in the ILSB. In keeping with requirements of the research planned for the facility, the building will house around 30 robust flexible laboratories, meeting, seminar, and lecture rooms, core support facilities, computational equipment and spaces to support informatics activities, an auditorium and associated auxiliary space, and space to house operational staff.
In addition to providing stellar accommodations for research and education, the design of the ILSB will reflect a timely emphasis on conservation of energy and the environment. The building is intended to meet the Leadership in Energy and Environmental Design (LEED) Green Building Rating System Silver Certification standards in sustainable design. The LEED system is a voluntary, consensus-based national standard for developing high-performance, sustainable buildings. Points toward LEED certification are awarded in such categories as water efficiency, energy and atmosphere, materials and resources, indoor environmental quality, and innovation and design process.
A few examples of features which will earn the building LEED Silver Certification include the use of cisterns to capture rain water and air-conditioning system condensation for irrigation needs, the selection of native and adapted plants with minimal irrigation requirements, use of partially recycled content building materials, and maximizing the amount of daylight and views in the building spaces. These design features, and many others, will mark the ILSB as an environmentally friendly element in the campus environment.
Other building projects planned in the university's quest for expanded capabilities in life sciences education and research include a new nuclear magnetic resonance imaging facility, a new wing for the Veterinary Research Tower, and an expansion of the Comparative Medicine Program's facilities.
For more information regarding the Interdisciplinary Life Sciences Building, see ilsb.tamu.edu.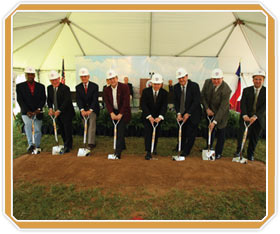 (Left to right): Bill Jones, Vice Chairman of The Texas A&M University System Board of Regents; Dr. David B. Prior, Executive Vice President and Provost, Texas A&M University; Peter Doyle, President and CEO of J.E. Dunn Southwest; John White, Chairman of the Texas A&M System Board of Regents; Dr. Robert M. Gates, President of Texas A&M University; Dr. Richard E. Ewing, Vice President for Research, Texas A&M University; Tim Donathen, Executive Director, Texas A&M System Facilities Planning & Construction; and Ed Cordes, Principal in Houston office of Perkins+Will.