The University of Texas Southwestern Medical Center at Dallas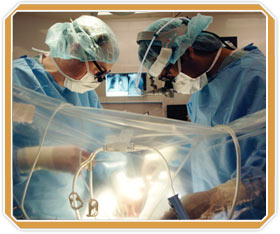 Twenty-five years ago, a group of civic-minded women in Dallas committed themselves to battling the nation's leading cause of death.
The means to that end was the Sweetheart Ball, which has become one of the most prestigious charity events in Dallas. Its purpose: to support and make contributions to organizations located in Dallas County that focus primarily on the prevention and treatment of heart disease.
The 2006 Sweetheart Ball, chaired by Mrs. Jerral W. Jones, recently set a record by generating more than $1.16 million for cardiovascular research at UT Southwestern Medical Center at Dallas. Through the years, the event has raised more than $10 million in support of the medical center's heart disease research efforts.
Mrs. Jones' work with the Sweetheart Ball follows a legacy of Dallas philanthropic leaders, who have included Mrs. Robert Lavie, Mrs. Elliott Roosevelt Jr., Mrs. Cappy R. McGarr, Mrs. William E. Gibbons, Mrs. Roy Sheldon, Mrs. Carl Sewell, Mrs. George A. Shutt, Mrs. James B. Francis Sr., Mrs. Thomas L. England Jr., Mrs. James R. Wikert, Mrs. Tom F. Marsh, Mrs. Jeremy L. Halbreich, Mrs. H. Ross Perot, Mrs. Robert H. Pickens, Mrs. Alfred W. Chandler Jr., Mrs. Elizabeth R. Smith, Mrs. John Ridings Lee, Mrs. Toddie Lee Wynne Jr., Mrs. George Poston, Mrs. J. Fulton Murray Jr., and Mrs. Laura Bayoud Hunt. The chairman elect for 2007 is Mrs. William A. Custard.
This tremendous community support has laid the foundation for the groundbreaking research into the causes of cardiovascular disease for which scientists and physicians at UT Southwestern have become known worldwide.
From 1986 to 1991, proceeds from the Sweetheart Ball were designated for the establishment of the Gail Griffiths Hill Chair in Cardiology, named for one of the founding board members who died in 1984.
Since 1992 the funds generated by the gala have been directed to the Sweetheart Ball Fund for Cardiology Research. This endowment fund, invested in the Long Term Fund, has fueled the search for new therapies to prevent and cure heart disease – which affects 13 million men and women in the United States – including research into treatments for those genetically predisposed to heart disease.
Funding has also enabled UT Southwestern scientists to understand the genetic causes of heart disease, the molecular pathways within muscle fibers, and to begin research into new pharmacological interventions for those suffering from heart disease.
Sweetheart Ball support has not only boosted basic research into cardiovascular disease, but also has helped fund innovative pilot projects, such as research into a genetic vaccine for heart disease, and has helped attract some of the world's top cardiovascular experts to UT Southwestern.
For more than 25 years, UT Southwestern has been at the forefront of cardiovascular medicine and treatment. Among its successes: heart-attack patients who come to UT Southwestern for treatment have the lowest mortality rate among all of the major hospitals and medical centers in the region, and UT Southwestern heart and lung transplant patients have the highest one-year survival rate in the nation.
"The tremendous success of the Sweetheart Ball and its supporters' continued generosity allows us to move forward in our mission to find more advanced ways of detecting, treating and preventing heart disease," said Dr. Joseph Hill, Chief of Cardiology. "It is extremely gratifying to see people such as these come together for a common, altruistic goal, and I'm excited about the opportunities that this level of support will mean to our research efforts."
Dr. Hill, who holds the James T. Willerson, M.D., Distinguished Chair in Cardiovascular Diseases and the Frank M. Ryburn, Jr. Chair in Heart Research, was recruited four years ago from the University of Iowa College of Medicine with the help of Sweetheart Ball proceeds.
Dr. Hill's research on the molecular processes that lead to heart enlargement and heart failure, coupled with many other research initiatives, helped UT Southwestern continue its groundbreaking work in finding causes and treatments for many cardiac diseases.
The development of heart disease includes a myriad of factors such as lifestyle and genetic predisposition. For more than two decades UT Southwestern has been at the forefront of interdisciplinary research into all aspects of cardiac disease. Research within the fields of nutrition, exercise, genetics and cholesterol have led to some of the world's most notable breakthroughs in clinical treatments for heart disease, such as the development of statin drugs.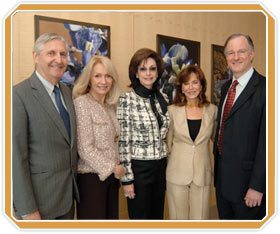 (from left) Dr. Kern Wildenthal, President of UT Southwestern Medical Center, Diana Strauss, Gene Jones, Jan Pickens, Dr. Joe Hill, Chief of Cardiology
"The Sweetheart Ball has created a legacy of generosity that benefits the entire community," said Dr. Kern Wildenthal, President of UT Southwestern. "Its support and encouragement have helped us to build one of the top-ranked cardiology programs in the nation. The research breakthroughs generated by Sweetheart Ball funds will lead to better diagnostic procedures and treatments for patients with heart disease around the world."