The University of Texas at Brownsville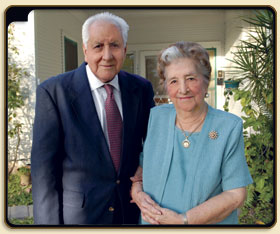 Carlos A. and Virginia G. Estrada
On his 60th birthday this past year, Robert A. Estrada knew just how he wanted to celebrate. Instead of presents, he asked his many friends and family to make an investment in the future and to honor his parents whose commitment to education had set him and his siblings on successful paths in life. Estrada, a Dallas investment banker raised in Brownsville, created a permanent scholarship endowment at The University of Texas at Brownsville and Texas Southmost College in honor of his parents. The Carlos A. and Virginia G. Estrada Scholarship Fund Endowment will provide scholarships for deserving students at his hometown university.
With his brother, Jorge, and sister Laura adding to the fund on behalf of their late brother Carlos Jr., an Air Force pilot who died in Vietnam, the Estrada family has created a lasting tribute that will help deserving Rio Grande Valley college students for years to come.
"It was easier than people think. I was pretty blown away by the response," Robert Estrada said of his initial birthday brainstorm. "There were lots of modest gifts and several major ones. We've been very gratified."
Laura Estrada said it's fitting that her parents, who still live on West Levee Street in Brownsville, should be honored with a scholarship endowment.
"My parents were true role models. Education was always a big issue when we were growing up," said Laura, who owns a Dallas consulting firm specializing in financial printing. "They knew how much further in life we could go and how much more we could contribute if we had a college education."
Robert Estrada attended Texas Southmost College before earning his Bachelor of Science and law degrees at UT Austin. He is chairman and co-founder of Estrada Hinojosa Investment Bankers.
His father, Carlos, was born in Mexico and sent by his parents to live in the United States to learn the English language and attend University of California at Berkeley where he earned a degree in engineering. He eventually came to Brownsville with Pan American Airlines, where he met his wife Virginia. Their belief in the power of education was passed to their children.
"Since I was a young boy, my parents prepared me to get a college education," said  Carlos Estrada Sr. "I always told my children, regardless of what you want to do in life, you stay in college and come back and show me your degree."
Now, having a scholarship endowment in his own name is a "big honor," the elder Estrada said. He is especially glad the scholarships will help students attending his hometown university. "The chance to help others who would need financial assistance to go to college is a big satisfaction."
Robert Estrada, who is just completing his term on the UT System Board of Regents, said scholarship endowments are crucial to a fast-developing university like UTB/TSC. "It's so important for the future of the border and the Rio Grande Valley to continue to build on the great progress that's already been made there."
The Carlos A. and Virginia G. Estrada Scholarship Fund Endowment is invested in the Long Term Fund and had a market value of $11,596 as of August 31, 2007.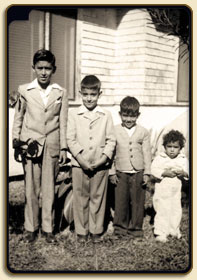 Growing up in Brownsville, Texas, education was always important in the Estrada home.