The University of Texas at Arlington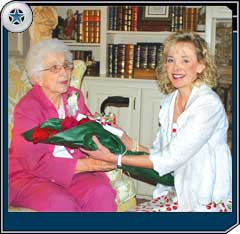 Luna Ruth Tinker received flowers from Myke Holt as she celebrates her 90th birthday at the home of Clif and Sherry Daniel with family, friends and a special concert given by UT Arlington music faculty.
The Heart of the Matter…UT Arlington
By: Myke Holt
Luna Ruth and Tom Tinker's long relationship with UT Arlington inspired daughter Carolyn, who grew up on the campus, to honor her mother's accomplished career with an endowed scholarship. Luna Ruth is a piano teacher in Arlington and has taught private lessons since 1941. She also served as local chair of the National Piano Guild for 20 years, was a member of the Fort Worth Piano Teachers Forum for 46 years, and was involved in the Van Cliburn Competition from its inception in 1962.
Her husband, Tom, was the basketball coach at North Texas Agricultural College, then Arlington State College, and finally UT Arlington. The Tinker family's life revolved around athletics and music on the University's campus, so it makes sense that Carolyn received both her bachelor's and master's degrees from UT Arlington.
Luna Ruth recognized the power of basketball and her husband's popularity when she joked with Carolyn that coaches were lucky because piano teachers didn't get to hand out awards or have things named after them. So Carolyn thought, "Why can't piano teachers be lucky, too?" In 1996, the Luna Ruth Tinker Keyboard Scholarship was established with the goal of awarding scholarship funds to piano and organ students.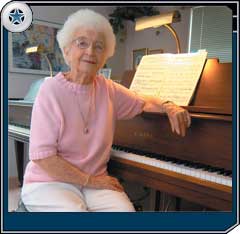 Luna Ruth Tinker
The plan was to permanently endow it from Mrs. Tinker's estate, but over the years, the endowment grew as Carolyn and one of Luna Ruth's "special students," Sherry Daniel, contributed every year on Luna Ruth's birthday. Sherry received her piano degree from UT Arlington. Before they knew it, the endowment was close to completion-and at just the right time.
Luna Ruth recently celebrated her 90th birthday at the home of Clif and Sherry Daniel with family, friends and a special concert given by UT Arlington music faculty. The highlight was Luna Ruth's own performance at the grand piano. Carolyn, Sherry and UT Arlington music Professor Dr. Larry Wiley lovingly planned the celebration with the long-awaited announcement that the Luna Ruth Tinker Keyboard Scholarship Endowment, in honor of her distinguished teaching career, was now complete.
Luna Ruth, who played the piano at the First Christian Church in Arlington for 60 years, still teaches five students and, amazingly enough, continues to work on her own keyboard technique. Many family, friends and students have given to the scholarship over the years, and they have the great joy of knowing that Mrs. Tinker's accomplishments and her legacy will live forever. They now have the added satisfaction that she knows how much she is loved.