The University of Texas at Brownsville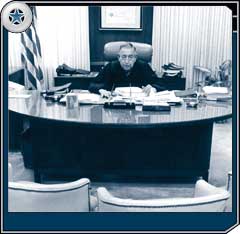 U.S. District Judge Reynaldo G. Garza in his office.
He was a South Texas icon, the first Mexican-American to serve as a federal district court judge.
To those who faced him in the courtroom, he could be formidable: A challenging intellect wrapped in a considerable physical presence.
To his young law clerks, he was also a compassionate mentor, a father-figure who laughed easily and valued education and family above riches.
No surprise that those former clerks-now established attorneys, prosecutors and law professors-joined to honor U.S. Fifth Circuit Court of Appeals Judge Reynaldo G. Garza and his wife of 61 years, Bertha Champion Garza, with a scholarship endowment at The University of Texas at Brownsville and Texas Southmost College.
"Given the judge's focus on education throughout his career, it just seemed like the perfect gift," said Brownsville attorney Trey Martinez, who was there when the gift was announced at a reunion marking Garza's 40th anniversary on the bench.
The Judge and Mrs. Reynaldo G. Garza Scholarship Endowment has grown with a matching grant from the Houston Endowment, Inc. to more than $125,000.
"It was one of the greatest experiences of my life to serve as one of his law clerks," said South Padre Island attorney Pete Moore. "We were all thrilled to be able to participate in leaving a legacy for a great man."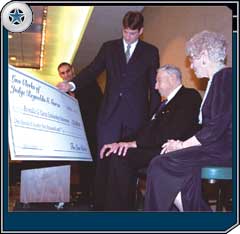 On the anniversary of his 40th year as a federal judge, former law clerks surprised Reynaldo and Bertha Garza with the announcement of a scholarship endowment in their name. All 55 of Garza's law clerks contributed which was matched by the Houston Endowment, Inc.
Garza, who passed away in 2004, grew up in Brownsville, attending what was then Brownsville Junior College. He graduated later from The University of Texas at Austin and its Law School.
After World War II, Garza came home to practice commercial and insurance law in Brownsville, served on the school board and City Commission, and rose to prominence throughout South Texas.
When President John F. Kennedy took office after the 1960 elections, Vice President and Texas native Lyndon Baines Johnson urged him to choose Garza for a federal judicial vacancy. In 1979, President Jimmy Carter named Garza to the Fifth U.S. Circuit Court of Appeals.
Garza was honored as a Distinguished Alumnus of UTB/TSC in 1993. His accomplishments inspired generations of young Hispanics-not to mention the more than 50 young lawyers who served with him over the years.
"I think there was a very special bond between my dad and his law clerks," said son and former Brownsville Mayor Ygnacio "Nacho" Garza. "When I was growing up, my dad's law clerks were like big brothers. He treated them like members of the family."
Garza's clerks recall a judge who loved a practical joke, and told fascinating stories about events in Washington. All remember his passion for education.
"His father told him, 'I'm not leaving you money and riches, but I'm leaving you a good education, and that's something that can never be taken away from you,'" Nacho Garza said. "He viewed education as a way for people to have a better life, and as a way to protect our democracy."
"The best way to remember him is not by building a statue. It's by investing in education, hopefully for years and years to come."