The University of Texas Health Science Center at Tyler
Richard J. Wallace, Jr., M.D., Chair, Department Of Microbiology
Chapman Professor, John Chapman Endowed Professorship In Microbiology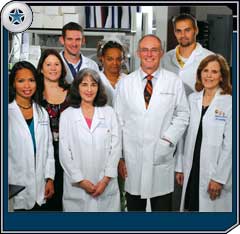 Richard J. Wallace, Jr., M.D., John Chapman Professor of Microbiology and the Mycobacteria and Nocardia research team in their new lab, dedicated in 2006.
The University of Texas Health Center at Tyler's first endowed Professorship was named in honor of John Chapman, M.D., at a ceremony held on April 1, 1987. The ceremony recognized Dr. Chapman's meritorious service as "Professor Emeritus" at UT Southwestern Medical Center-Dallas and for his helping to begin biomedical research at UTHCT. As an appointed member of the State Board of Health Advisory Committee, Dr. Chapman helped develop the original "role and scope" of the institution's research program.
The Chapman Professorship was also the institution's first endowment to qualify under the Eminent Scholar Program through The University of Texas System. In August of 1991, The University of Texas System Board of Regents concurred with the Health Center's recommendation to appoint Richard J. Wallace, Jr., M.D. as the John Chapman Professor of Microbiology. Dr. Wallace, Professor of Microbiology and Medicine, is board certified in internal medicine and infectious diseases and has gained an international reputation in his laboratory. His laboratory is a referral center for clinical studies and research in nontuberculous mycobacteria (NTM) species other than tuberculosis.
Dr. Wallace has stated that the appointment to the Chapman Professorship was very important due to the initial prestige inferred by his peers for the academic honor. The annual earnings from the endowment, which is invested in The University of Texas System Long Term Fund managed by UTIMCO, have provided a financial base for the continuance of his research for seventeen years. "The combined income from the endowment earnings, research grants and private sector support have enabled the Mycobacteria/Nocardia research team to present over 100 publications since 1981," said Dr. Wallace. This includes the naming of ten new species of Mycobacteria and Nocardia. In a 2008 paper published in the Journal of Clinical Microbiology, Nocardia wallacei was named by his peers "in recognition of his contributions to the understanding of the taxonomy and drug susceptibility of Nocardia species." Other significant achievements include his laboratory's research regarding the genetic mechanisms of mycobacterial resistance to two antibiotics used in treatment (amikacin and clarithromycin) and clinical trials that helped establish national standards for treatment and susceptibility of NTM.
The establishment of the Chapman Professorship in 1987 was a major milestone for the Health Center and led to the creation of over twenty five additional professorships and chairs. The academic accreditation achieved through this inauspicious beginning has been a contributing factor in the recent renaming of the Health Center to The University of Texas Health Science Center at Tyler. Endowments, like the Chapman Professorship have enabled UTHSCT to fulfill its mission "To serve East Texas and beyond through excellent patient care and community health, comprehensive education, and innovative research."