The University of Texas - Pan American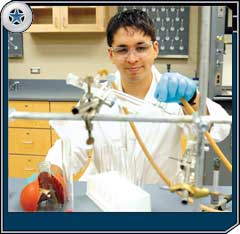 Branyan Decarlo Garcia, Pre-Med major.
Living in Edinburg, Texas in the early 1900s, Leonides González and his wife, Genoveva Guerra González, were determined to provide a good life for their family. The industrious Leonides worked as a car salesman, fruit and vegetable buyer, garage owner, and deputy sheriff. However, in 1933 during the Great Depression, he died at age 45 leaving behind eight children and a widow who had neither formal schooling nor a job. The perseveringly hard-working young mother was able to take care of her family with the help of her oldest daughter, Consuelo, who taught school. Genoveva's other children also contributed; each began working part time at an early age. For Gloria González Guajardo and her siblings, their mother's "iron-willed efforts to keep the family together made a big impact on all of us. We all saw the sacrifices she made."
Because of their parents, the González children learned to appreciate education. "Our father always made a point of telling us how important it was to graduate from high school, get a college education and get a good job," recalled Dr. Hugo René González. "He was a hard worker, and we learned from him that hard work was necessary if you were going to succeed in anything." Genoveva made certain that her children attended Edinburg's "Anglo" schools, where the facilities were better and the teachers more proficient. Furthermore, she insisted they speak English at home to reinforce lessons learned at school.
Embracing the values instilled by their parents, siblings Olga González Smith, Elpidia González Smith, Gloria González Guajardo, Luis Leonel González, Angel Noé González, Hugo René González, Consuelo González Hinojosa (deceased) and Belinda González Reese (deceased) successfully pursued degrees in higher education and enjoyed long, productive careers. Five became educators-a coach and school superintendent, three classroom teachers and one school counselor. Three chose health professions-a registered nurse, a vascular thoracic surgeon and a physician specializing in family and industrial medicine.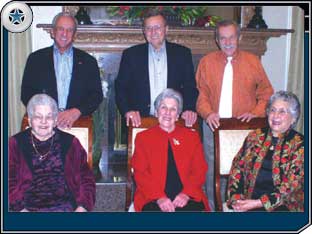 The González children (top from left) Dr. Luis Leonel González, Angel Noé González, Dr. Hugo René González
(bottom from left) Olga González Smith, Elpidia González Smith and Gloria González Guajardo.

The siblings all began their college educations at then-Edinburg Junior College, now The University of Texas-Pan American. As Olga González Smith explained, "Our family is eternally thankful that we had Edinburg Junior College when we graduated from high school. Since there were eight of us, we could not afford to go elsewhere to college and pay room and board plus higher college fees." Her sister Gloria González Guajardo added, "We were fortunate; Edinburg Junior College provided some of us with jobs that helped pay for our tuition and books."
Their mother's indomitable spirit and their father's exemplary life inspired the González siblings to establish the Leonides González and Genoveva Guerra González Endowed Scholarship for pre-medicine and/or education students at The University of Texas-Pan American. Their son Dr. Luis Leonel González spoke for all of his family when he recently said, "My parents, whom we honor with this endowment, understood well the importance an education plays in achieving success. It is our desire to help others reach their goals."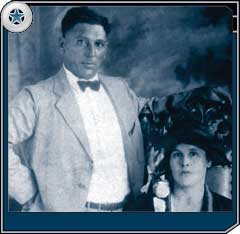 Leonides González and his wife, Genoveva Guerra González.