The University of Texas System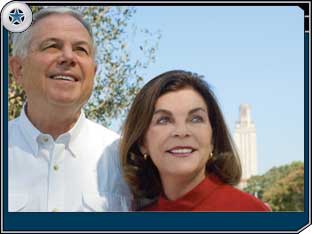 Barbara and John Stuart.
John Stuart III took to heart the old adage that you should grow where you are planted. After decades of success in business, he still lives only two blocks from his childhood home.
But Stuart does not allow his attachment to Dallas limit his vision about higher education in Texas. As president of The University of Texas Foundation and the former chairman of the Chancellor's Council Executive Committee, he is a big believer in the importance of a strong University of Texas System and an equally strong leadership team. John and his wife Barbara have established the Barbara W. and John T. Stuart III Chancellor's Excellence Endowment to ensure that the chancellor's initiatives are supported in perpetuity.
"I've known the UT System since it was really very small-not much more than UT Austin and the UT Medical Branch-and as it continued to grow," says Stuart. "It was former Chancellor Bill Cunningham who really got me into it, but there has been a natural evolution in my interest over the years. Today, the UT System has so many moving parts and touches so many facets of our lives. Supporting the chancellor and the leadership team allows them to leverage their work and assure that all UT institutions grow and prosper. And, at the end of the day, it's all about the quality of life in Texas and the quality of life our children and grandchildren will enjoy."
Stuart is representative of 90 donors who have created the Chancellor's Excellence Endowments. Each appreciates the vital nature of leadership that adds value to the work of all 15 UT institutions and invigorates a university system that is greater than the sum of its parts.
Their generosity allows the Board of Regents to attract and retain the highest level of executive leadership for the UT System and supports the chancellor's efforts and initiatives to encourage world-class education, research and healthcare in UT's institutions. Programs designed to recognize outstanding contributions by faculty-such as the Chancellor's Health Fellows, Innovations in Education Awards and Entrepreneurship and Innovations Awards-are among the beneficiaries of their philanthropy.
By underwriting excellence throughout the UT System, Stuart and his fellow donors truly are creating a legacy of leadership for The University of Texas and the people of Texas.