The University of Texas Southwestern Medical Center at Dallas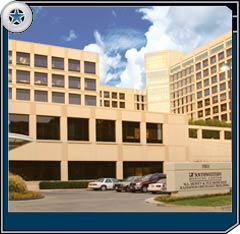 W.A. Monty & "Tex" Moncrief Radiation Oncology Building at UT Southwestern Medical Center.
Deborah and W.A. "Tex" Moncrief Jr. believe in providing tangible support to their community and state. Today, their generous and heartfelt contributions are helping to bring the most advanced cancer care and treatment to North Texans.
The Fort Worth oilman and patriarch of one of Texas' first families of philanthropy learned about the importance of giving from his parents, W.A. "Monty" and Elizabeth Moncrief, who in 1958 founded the Fort Worth-based Moncrief Radiation Center, now known as Moncrief Cancer Resources, one of the first community radiation facilities in the country.
The Moncrief Radiation and Research Foundation, chaired by Tex Moncrief, gave the Moncrief Radiation Center to the UT System in 1995, and UT Southwestern Medical Center assumed responsibility for its operation in 1999.
The facility's physical plant and equipment was valued at $30 million, and its foundation endowment at $60 million. The $90 million total value represented the largest single philanthropic addition ever received by a university or medical center in Texas at that time.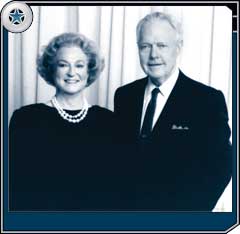 Deborah and W.A. "Tex" Moncrief Jr.
The affiliation united the excellent care of the Moncrief facility in Fort Worth with the expertise of UT Southwestern specialists and researchers in Dallas. Today, the Moncrief Cancer program provides special diagnostic and genetic tests that are otherwise unavailable, important outreach programs to encourage early testing and diagnosis of cancer, and cancer support services to patients and their families in Tarrant County and surrounding communities.
The Moncriefs' ties and generosity to UT Southwestern, UT Austin, UT M.D. Anderson and the UT System are longstanding, and include Mr. Moncrief's service on The UT System Board of Regents from 1987 to 1993.
In addition to the donation to UT Southwestern of the Moncrief Cancer Foundation assets in Fort Worth, Mr. and Mrs. Moncrief also contributed $7.5 million to UT Southwestern's $770 million Innovations in Medicine campaign toward the construction of a new three-story, 34,000-square-foot radiation oncology facility on the Dallas campus.
The W.A. (Monty) & "Tex" Moncrief Radiation Oncology Building, which serves as the centralized site for all outpatient radiation therapy activities at UT Southwestern, opened in 2003. This exceptionally beautiful facility includes a suite for high-dose-rate brachytherapy-an outpatient procedure in which a high level of radiation is delivered to a small, specific area. It also houses three state-of-the-art linear accelerators-the primary delivery devices for radiation therapy, as well as a sophisticated array of medical tools, including the latest Varian linear accelerator, which has the capability for intensity-modulated radiation therapy. The accelerator, using computer targeting, delivers a higher dose of radiation more precisely to a tumor, sparing surrounding healthy tissues and organs.
Earlier, in 1993, the Moncriefs established the W.A. "Tex" and Deborah Moncrief Jr. Center for Cancer Genetics, which is directed by Dr. John Minna. Dr. Minna, professor of internal medicine and pharmacology and a pioneer in cancer genetics, said the support the Moncriefs have provided has been a fundamental underpinning for the cancer research and therapy he and his colleagues at UT Southwestern have done.
The Moncriefs interest in cancer research began very personally. In 1960 the loss of their daughter, Monty Francine, to leukemia strengthened their resolve to provide philanthropic support for medical and scientific endeavors. Their support for UT Southwestern helps ensure that cancer care throughout North Texas will be unsurpassed, and that new treatments will be developed on campus that will transform cancer treatment everywhere.
Previous contributions by the couple led to the establishment of the $2 million W.A. (Monty) Moncrief Distinguished Chair in Cholesterol and Arteriosclerosis Research, in honor and memory of Monty Moncrief. They also gave $1.25 million for the Endowed Scholars Program in Medical Science.
Dr. Michael Brown, one of UT Southwestern's four Nobel Prize winners, holds The W.A. (Monty) Moncrief Distinguished Chair in Cholesterol and Arteriosclerosis Research.
"I am very grateful to the Moncrief family for establishing the W.A. (Monty) Moncrief chair. The funds from that endowment have provided the flexibility that allows my laboratory to address difficult scientific questions that would be too risky for the usual funding agencies," Dr. Brown said. "The freedom to pursue our own agendas has allowed Dr. Joseph Goldstein and me to make consistent scientific discoveries over more than 35 years."
Drs. Brown and Goldstein shared the 1985 Nobel Prize for their discovery of the underlying mechanisms of cholesterol metabolism. Their findings led to the development of statin drugs, the cholesterol-lowering compounds that are now among the most important, widely prescribed medications in the world.
The couple's most recent contribution to the medical center was a $1 million gift in May 2008 to the Kern Wildenthal M.D., Ph.D. Fund for Medical Excellence. This $20 million fund honors the former president of UT Southwestern, in recognition of his leadership. Dr. Wildenthal, president of Southwestern Medical Foundation, served as president of the medical center for 22 years and was dean of its graduate school and medical school during the decade prior to that.
"Tex and Deborah Moncrief rank among the most generous philanthropists in America," Dr. Wildenthal said. "Beyond that, they are -purely and simply - just wonderful, good people. Texas and the UT System are extraordinarily fortunate to have them as our friends."