The University of Texas at Arlington
| | | |
| --- | --- | --- |
| | | Steffen Palko has invested much of the past 20 years in education. The founder and former CEO of XTO Energy has served on local school boards and national councils of education, all with a focus on how to better educate our children. When Palko was introduced to a collaborative approach to learning called Mind, Brain Education, he saw the potential to change the face of education. |
Mind, Brain Education seeks to answer the question: how do we learn? Proponents of this learning approach seek to utilize the knowledge of the biological functions of the brain to help educators create teaching processes that will ensure children are maximizing the time they have in the classroom. A collaborative effort between educators, biologists, neuroscientists, psychologists, and other disciplines, Mind, Brain Education emphasizes considering a scientific approach to education.
As Palko learned more about the possibilities of using the science of the brain to improve the quality of instructional delivery and to encourage creative learning and reasoning, he saw a lack of Mind, Brain Education research in the Southwest.
"Most of the research is going on at places like Harvard or the University of Washington, and I thought that the opportunity in the Southwest, particularly in the Metroplex, where we have all the resources, was one that needed to be explored," said Palko. "The College of Education at UT Arlington, with the forward thinking leadership of Jeanne Gerlach, has the potential to be a leader in Mind, Brain and Education research."
Palko then made yet another investment in education. He made a $766,800 gift to establish the K-16 Mind, Brain and Education Chair, which is invested in the Long Term Fund. His investment is part of a $2 million project that will culminate in the creation of the K-16 Mind, Brain Education Center.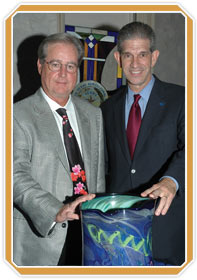 Steffen Palko accepts a glass vase from UT Arlington President, Jim Spaniolo. The vase was given in appreciation for Palko's gift establishing a Chair for Mind, Brain Education.
With the proceeds from Palko's gift, UT Arlington will attract leading scholars in the field, says Gerlach, Associate Vice President for K-16 Initiatives and Dean and Professor for the College of Education. "This gift will support our faculty as they partner with the Metroplex K-16 community to design learning opportunities that will ensure our students' future success," she said.
"Educators are facing different challenges than they did fifty years ago, yet the approach to education is the same," says Palko. "Teachers need to understand how to make learning more effective and successful." Mind, Brain Education is a way to use what we know about the brain to solve problems in the classroom.
A member of the International Mind, Brain and Education Society, UT Arlington will host the organization's inaugural conference in the fall of 2007.