The University of Texas Health Science Center at San Antonio
Did you know....
up to ten percent of all diagnosed cases of Amyotrophic Lateral Sclerosis (ALS), also known as "Lou Gehrig's disease," may be inherited?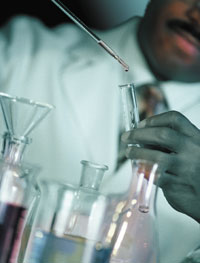 Offspring in families with a history of ALS have a 50 percent chance of inheriting the gene mutation that causes the disorder. Dr. John Hart, Ph.D., Assistant Professor of Biochemistry at the UT Health Science Center at San Antonio (UTHSCSA), is edging closer to discovering the cause of the inherited form of ALS. His research has been facilitated by the UTHSCSA's utilization of $7 million of PUF bond proceeds to construct core research facilities. These core research facilities greatly assist scientists, such as Dr. Hart, in their research.
ALS was first diagnosed in 1869 and is frequently referred to as "Lou Gehrig's disease" in memory of the famous baseball player who died of ALS in 1941. ALS is a degenerative disease of the nervous system, affecting the brain cells (motor neurons) that carry impulses from the brain and spinal cord to the muscles. This progressive, fatal, neurodegenerative disorder affects an estimated 30,000 Americans. The two forms of ALS are the "sporadic" version, which may affect anyone at any time, and the inherited form.

Dr. John Hart, Ph.D.


In his research of the inherited form of ALS, Dr. Hart is looking at mutations in a protein called copper-zinc superoxide dismutase (CuZnSOD) that may contribute to the death of motor neurons. Using X-ray crystallography (a process to determine accurate molecular structure) and analytical ultracentrifugation (solution state analyses of macromolecules), Dr. Hart's group hopes to view 60 different mutant CuZnSOD structures and compare them to the normal structure. The desired result of Dr. Hart's research will be a drug therapy that interacts with the chemistry of the mutated proteins to prevent or slow
the degeneration of motor neurons in ALS patients. Dr. Hart's efforts have received grant support from the ALS Association and the National Institutes of Health (NIH)..