The University of Texas - Pan American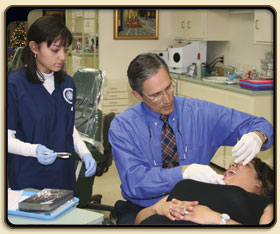 Canas-Cantu Endowed Scholarship recipient Melissa Uriegas with mentor David O. Adame, D.D.S., M.S. at Adame Orthodontics.
Ahead of her time in recognizing the importance of an early start for Hispanic children in the education process, Margaret Canas-Cantu established the Head Start program in the early 1950s on the barrio side of La Feria, Texas known as Villarreal Street to educate disadvantaged children, many from families of migrant workers. With her own money, she purchased and remodeled a house next door to her place of business and paid for books, toys, snacks, meals, and teachers' salaries to meet the needs of the 20 to 30 children in attendance at any one time.
To honor her selfless devotion in helping others, John C. Cantu, Margaret's only child, established the Canas-Cantu Endowed Memorial Scholarship at The University of Texas-Pan American to help South Texas students fulfill their dreams of a college education. "The learning experience I gained from my mother is reflected in the educational opportunities I have extended to my children as well as my desire to extend these opportunities to deserving disadvantaged students," he said.
Born in Alice, Texas in 1904 and raised in Los Indios, Texas, Margaret had only a middle school education. However, she discovered at an early age that she was a driven individual. After clerking in a dry goods store, she became an entrepreneur in the mid-1940s, opening her own store in La Feria and later a second store in nearby Harlingen. For her son, she would be a tower of strength, advising him to "never, never give up."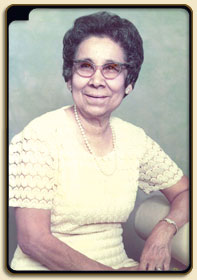 Margaret Canas-Cantu
Her husband, Juan Maximo Cantu (1904-1963) of Los Alacranes, Mexico was instrumental in helping Margaret succeed, giving continual and unconditional support for her dreams throughout their 37 years of marriage. "She couldn't have done any of this without his total support. Considering the times and the fact that he was from Mexico, where machismo is very prevalent, I realized that he was also ahead of his time," observed their son John.
Another influence on John's decision to establish the endowment was his daughter Lucia's educational experience. Now a pharmacist, Lucia was a single parent when she commuted 80 miles round trip to attend UTPA three days a week for two years as a pre-pharmacy student. "The UT College of Pharmacy is very competitive in Austin and I believe that the excellence of the faculty at UT Pan American and the course work that she took contributed greatly to the fact that she was accepted on her first interview," he said.
John, a retired pharmacist living in Austin, said his mother, who passed away in 2003, would have been proud of his continuing her compassionate legacy of helping needy children accomplish their educational goals through the Canas-Cantu Endowed Memorial Scholarship. "If my mother were alive today her reaction to the endowment in her name would be one of pleasure," he said. "I would like the recipients of the endowment to know that my mother loves and cares for them, and prays that they will always be successful in their endeavors."
The Canas-Cantu Endowed Memorial Scholarship is invested in the Long Term Fund and had a market value of $117,644 as of August 31, 2007.