The University of Texas Southwestern Medical Center at Dallas
Public and private contributions provide growth to Southwestern Medical Center's campus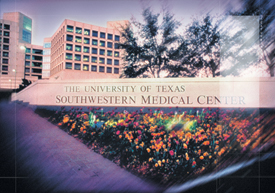 The University of Texas Southwestern Medical Center at Dallas stands as a model for the partnership between public and private contributors, and the gleaming new Seay Biomedical Building is its latest success story.
The building owes its existence to a $10 million gift from its namesakes, Sarah M. and Charles E. Seay, and $20 million of PUF bond proceeds. When the building was dedicated in November 1999, it became the fourth structure on the university's new North Campus.
Since then, some of the world's most important work in the fields of cancer, psychiatry, and biomedical invention has been accomplished there, with clinicians working side-by-side with scientists to solve medicine's most vexing problems. Cutting-edge research is being pursued in the field of molecular genetics as UT Southwestern researchers and clinicians zero in on the root causes of disease.
The bright and airy facility also was designed with the patient in mind. It is a convenient and peaceful oasis for patients, who receive state-of-the-art outpatient treatment in the Harold C. Simmons Comprehensive Cancer Center and the Southwestern Center for Breast Care.
The 10-story, 342,727-square-foot structure, which includes laboratory, office and clinical space, is part of 1 million square feet of new space added in the 1990s at UT Southwestern - all playing a vital role in improving health care in the 21st century.