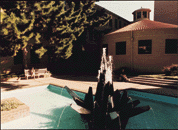 The Long Term Fund (LTF) was established on February 9, 1995, by the Board of Regents of The University of Texas System (the "Board") to replace the Common Trust Fund established by the Board in 1932. The LTF currently serves as a pooled fund for the collective investment of over 7,000 privately raised endowments and other long-term funds of the 15 component institutions comprising The University of Texas System. The LTF is structured as a mutual fund in which each endowment or account purchases units at the LTF's market value per unit. Cash distributions are paid quarterly, on a per unit basis, directly to the component institution. Fiduciary responsibility for the LTF rests with the Board. The day-to-day operational responsibilities of the LTF are delegated to UTIMCO. The 15 component institutions supported by the LTF consist of nine general academic institutions and six health-related institutions, with an enrollment base of approximately 153,000 students as of the 2000 Fall semester. Maintenance and enhancement of the academic quality of the institutions will require continued support from the private sector and achievement of LTF investment objectives. As of March 1, 2001, the LTF purchased 29,173,695 units in the newly created GEF. The initial number of units was based on the LTF's contribution of its net asset value as of February 28, 2001. The determination of units and the relative fair value of the assets and liabilities were audited by Deloitte & Touche LLP and may be viewed by accessing the link provided below. Commencing March 1, 2001, reports of the LTF include the summary activity of its ownership in the GEF.
An endowment is a permanent investment in the future of the University. Endowed funds are invested, rather than used as cash for immediate needs. A portion of the earnings from an endowment is distributed to the University. The remainder is added back into the principal, ensuring steady growth of the endowment. Private endowments are primarily invested in units of the Long Term Fund.
Development staffs at each campus or at the U.T. System are available to assist donors to structure gifts to provide the greatest positive impact to the institution and the donor. To contact a development officer at one of the 15 U.T. System institutions, or at the U.T. System itself, please see our list of institution development offices or contact the U.T. System Office of External Relations.