The University of Texas Law School Foundation
The George M. Fleming Center for Law and Innovation in Biomedicine and Healthcare at The University of Texas School of Law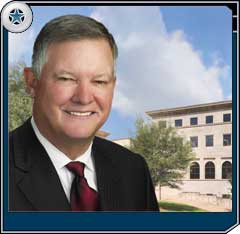 George Fleming
On the strength of an initial commitment of $2.5 million from George Fleming (JD '71), UT Law School is launching the Center for Law and Innovation in Biomedicine and Healthcare. The Center will address the broad sweep of human concerns that are implicated in the conjunction of law and medicine. Already in the works are: research and courses on the connection between patent law and the development of beneficial (and possibly not-so-beneficial) drugs and therapies; research on the connection between the required disclosure of medical outcomes and improvement in those outcomes; the creation of a fellowship devoted to access to health benefits and service; research, public lectures and a conference on the global emergence of constitutional rights to health and on human rights and health more broadly; and the development of programs addressing childhood obesity and broad health-related interventions on behalf of impoverished children and their families.
This generous gift by Fleming will propel UT Law School into the forefront of research in the areas of law and health, and the gift is a further demonstration of the Fleming family's longstanding commitment to healthcare and the myriad issues surrounding it. Earlier this year, Fleming and his brother, Scott, established the George McMillan Fleming Center for Healthcare Management at The University of Texas School of Public Health, honoring their late father who was a pioneer and respected leader in healthcare management in Houston for the better part of four decades. UT Law School will have a presence at this center, too, by providing faculty to teach courses in law and healthcare.
In discussing his most recent gift to UT Law, Fleming noted that Dean Larry Sager approaches his work with the question "how can we improve tomorrow what we're doing today?" That has been Fleming's approach to life throughout his impressive career as a litigator-an approach he learned at the feet of his father. "I have said before that 'we are all in this together', and no one understands that more keenly than George Fleming," said Sager. "George's life and career are animated by the belief that we are a community and that we bear responsibility one to the other. I am profoundly grateful to George for the confidence he has in the Law School to carry forward this ideal-a confidence that underlies his generosity and that we will work very hard to honor."
This is by no means Fleming's first gift to his law school. In 2005, Fleming donated $1.25 million for a major renovation of the student dining commons-renamed George's Café by the Law School in his honor-and to broaden programs and services available to law students through the Career Services Office, as well as to establish the George M. Fleming Faculty Excellence Fund to recruit and retain outstanding faculty.
Fleming graduated from UT Law School in 1971, after having earned his undergraduate degree from UT-Austin (BBA '68). He practiced with the U.S. Department of Justice for five years, where he gained invaluable trial experience, particularly in personal injury cases, returned to Austin to private practice for a time, and then founded the law firm of Fleming & Associates in Houston in 1981. The 12-attorney firm has earned a national reputation representing plaintiffs in mass tort, consumer, personal injury, and property damage litigation cases.