The University of Texas Medical Branch at Galveston
Making Dreams Come True: Herzog Foundation Establishes Scholarship Endowment for Talented Medical Students in Need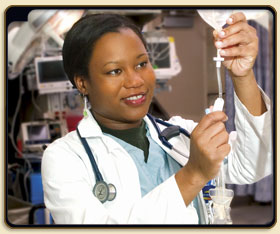 Regina Dimbo
When Regina Dimbo, a fourth-year medical student at The University of Texas Medical Branch, learned she had received a Carl J. Herzog Foundation scholarship, she was beside herself with joy. "I wasn't expecting it," said Dimbo, a Dallas resident who is the first in her family to attend medical school. "It was a big relief when I learned I was getting a scholarship. It's a tremendous help for me."
For Regina, who immigrated to the United States from the Ivory Coast during her teen years, receiving a Herzog Foundation scholarship had an even deeper meaning. After graduation, she's set her sights on a career in one of Texas' medically underserved communities by providing primary care to low-income patients. But she knows that carrying a large debt after medical school would have hindered those plans, making it financially untenable for her to work in an area where hospitals and clinics are less able to make competitive job offers.
Thanks to her Herzog Foundation scholarship, Regina need not see her dreams derailed. "It really won't matter now where I practice, even in a medically underserved area," she said.
Considering the average educational debt for graduating UTMB medical students is $118,000, the scholarships created by the University's Carl J. Herzog Foundation Medical School Scholarship Endowment help students make career decisions based upon their desire to do good things in the world. Because federal and state-federal insurance plans do not pay physicians as much for their services as private insurance, few doctors—especially those still paying off large student loans—choose to work in communities with large numbers of indigent and uninsured residents.
"By having medical students leave school with less debt, going to areas where they will earn less for their medical services won't be as much of an issue," said Dr. Lauree Thomas, UTMB Associate Dean for Student Affairs and Admissions. "That's why the Herzog Foundation is making such a big difference. By providing scholarships, the foundation is ultimately helping many people who would otherwise go without healthcare."
And Regina isn't alone. Since its establishment in 1993, the Herzog Foundation Endowment has generated 390 scholarships. More than 50 scholarships have been awarded so far this year, given in increments of $1,000, $5,000, and $10,000. Medical students who have demonstrated outstanding potential and face significant financial obstacles to remaining in school are eligible for these awards.
Years from now, after Regina has completed her residency training and successfully started her primary care practice, she can look back on that pivotal moment when she received the Herzog Foundation scholarship. The support she's received has even inspired Regina to think about her own philanthropy, reflecting on how she might motivate the students following in her footsteps.
"I would definitely be willing to contribute to a scholarship someday," she said. "Being a beneficiary of such a generous gift, I understand what it means. It means that a complete stranger believed enough in me to help me achieve my dreams. During medical school, when I started doubting myself, I thought of the scholarship and knew someone out there had faith in me. This gave me additional incentive to succeed."
The Carl J. Herzog Foundation Medical School Scholarship Endowment is invested in the Long Term Fund and had a market value of $10,577,399 as of August 31, 2007.