The University of Texas at Austin
George L. Clark Scholarship Fund
Celebrating a Philanthropic Legacy
By Jamey Smith
Littlefield Fountain
"I learned to think critically — how to learn, really — at UT. My history degree prepared me for everything I do in business." So says George L. Clark, Jr., a 1991 graduate of the College of Liberal Arts at The University of Texas at Austin and Managing Director of Freestone Partners, a Houston-based private equity firm he co-founded in 2001.
Perhaps it was predestined that Clark, one of many UT graduates in his family, chose history as his major. His first two names, George and Littlefield, are in honor of Major George Washington Littlefield (1842-1920), a great uncle on his father's side. Littlefield was a UT regent and businessman who gave more to The University of Texas during its first 50 years than any other individual, and whose name lives on throughout the campus. He personified the philanthropic spirit at UT and remains indelibly linked with its history.
Clark says his UT experience has helped him relate to people both in and out of the business world. "We all come from a specific environment, but you learn new things from the people around you, and that was certainly true of my time at UT." Like many of his classmates, the Dallas native helped find his way on the crowded campus by developing a circle of close friends. He joined a fraternity as well as the Texas Cowboys service organization.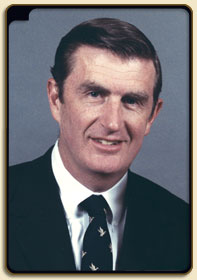 George L. Clark, Sr.
In 1987, between his freshman and sophomore years, tragedy struck Clark and his family when his father died in an airplane accident. George L. Clark, Sr. was Chairman of banking giant MCorp Dallas, which stepped up quickly with a large memorial scholarship donation to the University. Numerous family members, friends, and colleagues joined in the effort, and thus was born the George L. Clark Scholarship Fund in 1988. Available to outstanding students of any major, it is one of UT Austin's top scholarships in terms of market value.
The endowment has had a remarkable impact on students, with well over 1,000 awards made. In recognition of the honoree's leadership at MCorp, special consideration is given to students who have a family affiliation with MCorp and to students who exhibit leadership qualities.
Katie Chambers was a George L. Clark/MCorp scholar who graduated with honors in 2005 from UT's School of Architecture and today is thriving at an Austin firm. "Having the Clark Scholarship for four years was a huge weight off my shoulders financially," she says. "Sometimes, it had the added benefit of forcing me to focus more on school when things were extremely busy and stressful. The GPA requirement meant I had to focus if I was going to pay for school. That was an important experience."
Several family members enjoy being involved with the scholarship and are humbled by hearing success stories like Katie's. "Dad was really involved in civic affairs in Dallas, and his primary focuses were faith, family, leadership, and education," Clark says. "This scholarship incorporates two of those — education and leadership — in a way that I know he would appreciate."
The George L. Clark Scholarship Fund is invested in the Long Term Fund and had a market value of $2,983,657 as of August 31, 2007.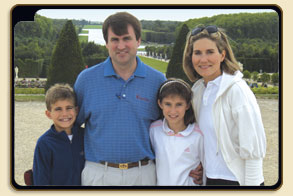 George L. Clark, Jr., on vacation in 2007 with his wife Ashley and their two children, who George says "would both love to go to UT."