The University of Texas at Austin
Did you know…..
More than 100,000 deaths each year are caused by alcoholism.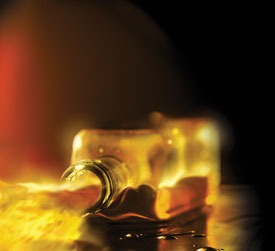 With an estimated economic impact of $146 billion per year in the United States alone, alcoholism profoundly affects individuals, families and our society. The National Institute on Alcohol Abuse and Alcoholism reports that 14 million Americans either abuse alcohol or suffer from alcoholism while 76 million more Americans are indirectly exposed to alcoholism in the family. Researchers have frequently studied the effect of environment on predisposition to alcoholism, but new technology now makes it possible to explore the link between genetics and alcoholism.
The Waggoner Center for Alcohol and Addiction Research was established at The University of Texas at Austin in 1999 following a $5 million lead gift by M. June and J. Virgil Waggoner to support research in the molecular genetics of alcoholism. Under the leadership of Dr. R. Adron Harris, the Center has brought together sixteen scientists from the Colleges of Natural Sciences, Pharmacy, Education and Liberal Arts to conduct research on the early detection, treatment, and prevention of alcoholism. The Center has established a memorial gift program and accepts contributions in memory of those who have died from alcoholism and its related diseases. UT Austin matched the Waggoner's $5 million gift, and an additional $5.3 million was granted to the Center by the Texas Commission on Alcohol and Drug Abuse. Combined with other current public research grants of nearly $600,000, total funding for the Center now exceeds $15 million. The Waggoner Center is well positioned to become a national leader in the search for solutions to the disease of alcoholism, the findings of which will offer important clues to understanding and treating other addictions.