The University of Texas at Tyler
Ralph Martin Supports UT Tyler Engineering Program
Ralph Martin and Petrofac, the multibillion dollar company he founded, are known for making good investments. That is why The University of Texas at Tyler is especially proud to have them establish the Ralph Martin Engineering Scholarship and the Ralph Martin-Petrofac Engineering Enrichment Fund.
Joining several other former employees of his first independent venture in 1981, Ralph formed Petrofac, Inc., an international leader in the design and fabrication of small refineries and gas plants. The original company has created multiple new companies in countries all over the world, regularly spawning million dollar projects, and is one of the industry's world leaders. Not only did Ralph serve as Chairman and CEO of Petrofac for many years, he holds patents for the treatment of emulsions, the desalinization of brackish water, and the desalinization of crude oil.
"Having worked with Ralph for more than thirty years, I know first-hand how he places a high value on his employees, how eager he is to invest in them, and how he leads them by example and encouragement," said Steve King, UT Tyler Class of 1984.
Upon Ralph's retirement in 2005, Petrofac wanted to present a gift to Ralph that would be special to him and recognize his dedication and sacrifice. Instead of a gift for him, Ralph quickly suggested that $25,000 be used to establish a scholarship at The University of Texas at Tyler, where he assists Dean Jim Nelson on the College of Engineering and Computer Science's External Advisory Council.
"Ralph understands the importance scholarships play in attracting the high-ability students needed in the engineering field today, and we are so grateful he chose to invest here with us," Dr. Nelson said. "Our goal is quickly becoming a reality – to become a destination university for students entering these crucial fields of study."
The following year, Petrofac and Ralph Martin again approached UT Tyler's College of Engineering and Computer Science about another investment – this time in the establishment of an Enrichment Fund. This endowment supplies discretionary funds that the Dean can use for faculty conferences, recruitment, and student organization activities for the College. The company has made a long-term commitment to grow the corpus of this endowment as the young College grows.
"Our ongoing partnership with Petrofac and Ralph Martin means that we can continue to provide an atmosphere of excellence as we expand the College of Engineering and Computer Science," said Dean Nelson. "This enrichment fund gives us the tools to advance to the next level."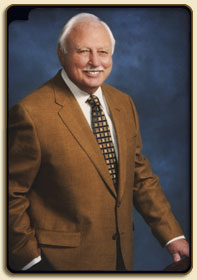 Ralph Martin
"We are privileged to have ones like Ralph Martin and Petrofac, with proven records of innovation and success, partner with us to develop those same qualities in our students at The University of Texas at Tyler," said UT Tyler President Rodney H. Mabry.
The future generations of students Ralph Martin and Petrofac impact through these endowments will potentially yield their greatest returns on any investment yet, and for that foresight The University of Texas at Tyler is truly grateful.
The Ralph Martin Engineering Scholarship and The Ralph Martin-Petrofac Enrichment Fund are invested in the Long Term Fund and had a combined value of $83,890 as of August 31, 2007.