The University of Texas at Tyler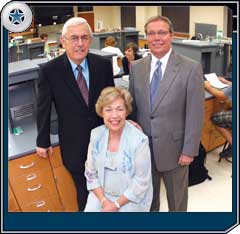 The Owen family, Louis (left), John (right) and Peaches (seated).
Inspired by an alumnus, The Owen Family Foundation pledged $110,000 to make history by establishing the first chemistry scholarship at The University of Texas at Tyler.
Named after their eldest son, the John Kermit Owen Endowed Chemistry Scholarship was established in July 2008 to assist future chemists with the commencement of their education. His love of chemistry and appreciation for his advisor, Chemistry Department Chairman Dr. Don McClaugherty, motivated John to inquire about the present needs of his alma mater.
"We all benefit from the achievements of the talented and educated," are heartfelt words from the namesake of the fund, John K. Owen, a 1996 graduate. John turned academics into action where he works for Chicago Bridge & Iron (CB&I) in Tyler, Texas doing process design for construction projects in the hydrocarbon processing industry.
John's parents, Louis and Peaches, are genuine models of philanthropy, initiating a family foundation as a means to share their financial good fortune. Louis, president of the foundation and successful chemical engineer in the petroleum refining industry for over 40 years, places a high value on education as a means for cultural development and training. "College should provide a liberal arts foundation and specific skills in a field, which will provide employment opportunities," said Louis. "This scholarship will not only reward, but hopefully lighten the load of students preparing to be chemists."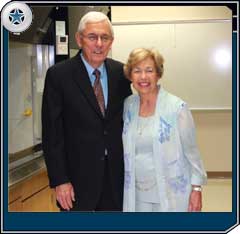 Louis and Peaches Owen.
"The Owen family is truly lighting a path toward continued success in our College of Arts and Sciences, perpetually impacting our great university in ways that are critical to its future," said UT Tyler President Rodney H. Mabry. "Endowed scholarships pave the way for continued financial support to be given directly to our students."
While their endowment provides payment for tuition, the Owen Foundation made an additional gift of discretionary use dollars for special needs of the Chemistry Department. "I remember how amazing the 'new' 60-MHz Nuclear Magnetic Resonance (NMR) spectrometer was to the students back then. It's still around at the department, but now looks like a toy compared to the current room-sized 400-MHz instrument," said John. His strong desire is that their family contribution helps the physical science departments keep pace with the remarkable growth of the university as a whole.
"I have used applied chemistry every day throughout my career, and some days it's a very big adventure," John remarks. Generations of students will join that path to great adventures with their burden of tuition a little lighter due to the loyalty and generosity of the Owen family.
The John Kermit Owen Endowed Chemistry Scholarship is invested in The University of Texas System Long Term Fund.