The UT System Long Term Fund (LTF) is a pooled investment fund for the collective investment of the privately raised endowments and other long-term funds benefiting the 14 institutions of the UT System and UT System Administration. Most gifts given to fund endowments are commingled in the LTF and tracked with unit accounting similar to a mutual fund.  On a quarterly basis each LTF contribution purchases units at the LTF's market value per unit. Cash distributions are paid quarterly, on a per unit basis, directly to the UT System institution of record. Distributions from the LTF fund scholarships, teaching, and research across the UT System.
The primary investment objective of the LTF is to maximize investment returns within the risk parameters specified in the LTF Investment Policy Statement without regard to the distribution rate. The LTF's success in meeting its objectives depends upon its ability to generate high returns in periods of low inflation that will offset lower returns generated in years when the capital markets underperform the rate of inflation.
In order to take advantage of lower unit costs, attractive investment opportunities, and broader diversification benefits available from a larger investment fund, the endowment assets in the LTF are invested in the UT System General Endowment Fund (GEF), a broadly diversified pooled investment fund created by the UT System Board of Regents in March 2001.  LTF contributions are invested in the GEF on a quarterly basis. These contributions purchase additional GEF units at the prevailing market value price per unit. The other GEF unit holder is the Permanent Health Fund (PHF).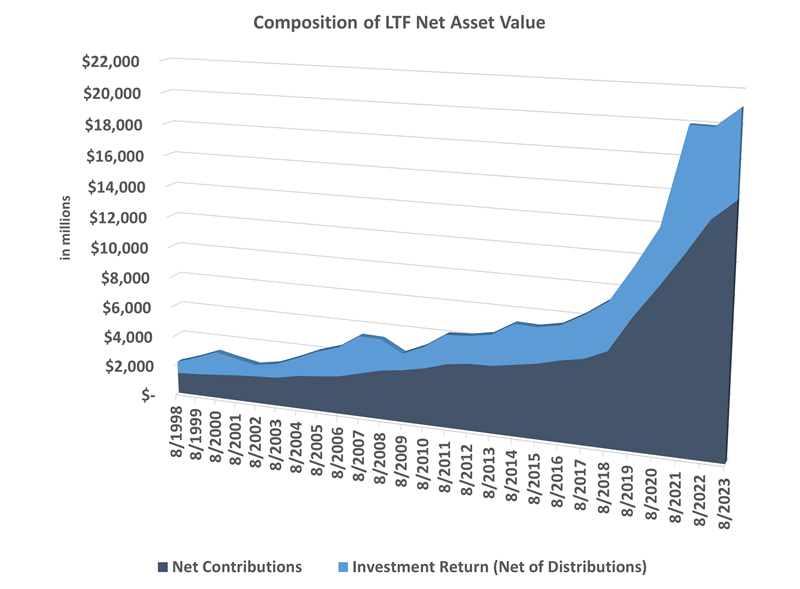 LTF Beneficiaries
UT Arlington
UT Austin
UT Dallas
UT El Paso
UT Permian Basin
UT Rio Grande Valley
UT San Antonio
UT Tyler
UT Southwestern Medical Center
UT Medical Branch at Galveston
UT Health Science Center at Houston
UT Health Science Center at San Antonio
UT MD Anderson Cancer Center
UT Health Science Center at Tyler
UT System Administration